Dried Shrimp Peeling Machine – Tech Garden
Uses : peeled dried shrimp, the product comes out clean shrimp shells are not broken, ensuring food safety and hygiene
Capacity:  50 (DSP50), 100 (DSP100), 200 kg/h ((DSP200)…depending on customer's request
Thông tin sản phẩm
– Currently, dried shrimp is popular, used by many people to create many delicious and attractive dishes, due to market demand, Tech Garden Company has researched and produced (September 2017) Dried Shrimp Peeling Machine. Dried Shrimp Peeling Machine – Tech Garden works on the principle of using air pressure to peel the dried shrimp shells, the product comes out clean without being crushed or broken, ensuring food safety and hygiene. Dried Shrimp Peeling Machine is simple to operate, only needs one person to operate, saving labor and time while still achieving high productivity.
– Material: 304 stainless steel, durable, beautiful, resistant to environmental impacts, ensuring durability and food safety.
– Machine used for establishments, companies, households producing dried shrimp, …
– Capacity: 50 kg/h (DSP50), 100 kg/h (DSP100), 200 kg/h (DSP100)…depending on customer requirements.
In addition, Tech Garden designs and manufactures machines according to customers' requirements.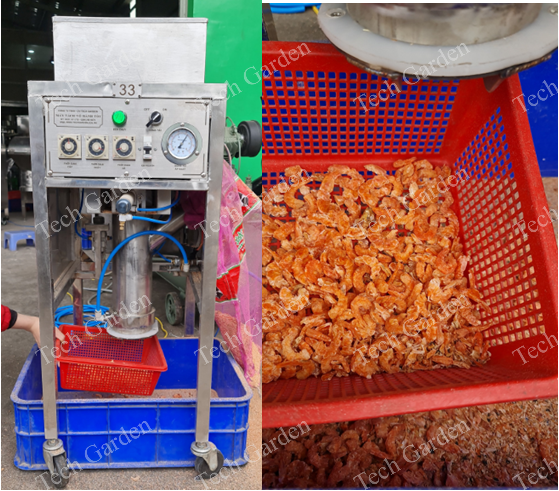 Video of Dried Shrimp Peeler
See some video: sorter peeled shrimp, machine peeled capacity 10kg / h